Waiting on Wednesday is a weekly event hosted by Breaking The Spine and is a fun way to see what books other bloggers just can't wait to get their hands on!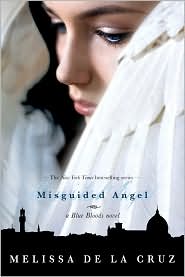 Misguided Angel (Blue Blood series #5)
Melissa de la Cruz
Young Adult
October 26, 2010
I am looking forward to Misguided Angel. I enjoyed the first four books in this series. The characters are well developed and the idea of the vampires is very creative. I know this isn't the last book in the series, which I am happy about, because I love to never stop reading about these characters. I do know there will be a lot of suspense in this book, but mostly I suspect that it would just lead up to the last book in the series, which will have the most action and suspense.
From Barnes&Nobles:
After inheriting the dark Van Alen Legacy, Schuyler fled to Florence--with her forbidden love, Jack. Now the two of them must embark on the mission Schuyler was destined to complete: to find and protect the seven gates that guard earth from Lucifer, lord of the Silverbloods.
As the Blue Blood enclave weakens yet further, fate leads Schuyler closer to a terrifying crossroads--and a choice that will determine the destiny of all vampires.